Alexandria-Cornwall Bishop Marcel Damphousse calls the Faithful to Prayer and Faith in the Coming Days
CORNWALL, ON – Catholics from around the world have their attention focused on Rome these days and more particularly on this day of February 28, 2013. It is an historic day in the history of the Church, for Pope Benedict XVI will relinquish his responsibilities, renouncing his Petrine ministry because his fragile health.
We do not remain indifferent as a Church before such news. On the contrary, led by our faith, we are called to pray in thanksgiving for the many years of service rendered by the Holy Father and for his witnessing of faith and love for Christ. We continue to support him in our prayers during this time of transition. He will retire to one of the Vatican monasteries, dedicating himself to prayer and reflection in communion with us all.
I urge you to pray to the Holy Spirit so that He may enlighten and guide the cardinals who will gather in Conclave very shortly to elect the next Successor of Peter. Our prayers contribute to ensuring the choice will be of God and not of men.
We will have a better idea as to when the Conclave will start once the cardinals begin their general meetings, probably on March 4. The successor will most likely be chosen from the present cardinals, but one needs to be reminded that, in theory, any Catholic man in good standing with the Church is eligible.
Finally, in light of the heavy media coverage, I strongly recommend that everyone please take time to verify  sources of the information before accepting "news" as fact. Here are a few reliable Catholic sources that can help you in your research:  www.zenit.org and  www.saltandlighttv.org .
Moderator's Note:  Official news can also be obtained from Vatican websites:  www.news.va and www.vatican.va .
An estimated 130,000 well-wishers filled St. Peter's Square in Wednesday's farewell celebration for Pope Benedict XVI.  Benedict's final day in office was scheduled as follows (all times in GMT):
10am – Cardinals gather in the Vatican to bid farewell to Pope Benedict
3:15pm – Pope is driven to a helipad within the Vatican
4pm – Travels by helicopter to Castel Gandolfo near Rome
5pm – Appears at a window overlooking the public square in Castel Gandolfo to bless a crowd
7pm – Benedict officially ceases to be pope and is known henceforth as 'pope emeritus'. Swiss guards at the entrance to Castel Gandolfo leave their posts.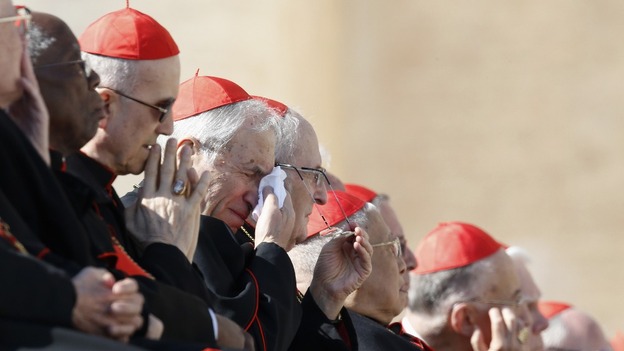 This current time is referred to as sede vacante (the seat is empty.)  On Wednesday the average age of the 117 eligible cardinal-electors was just under 72 years, about five years older than the average when Pope John Paul II was elected to the papacy in 1978.  The eligible cardinals range from 53 to 79 years of age and represent 50 countries, including three from Canada and 11 from the U.S.A.
According to the Vatican Philatelic and Numismatic Office, during this period of sede vacante, four commemorative  stamps will be available.  The stamps will only be valid until the election of a new pope and are expected to have a high collector value.  Special sede vacante coins will also be minted, some of which will go into general circulation.  Unlike the stamps, the coins may not be available until April.