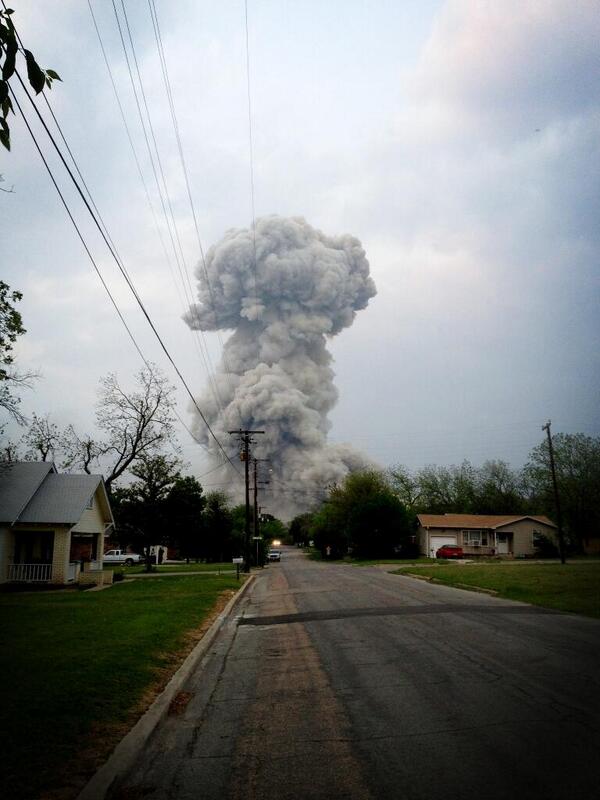 CFN  –   A Massive explosion at a Fertilizer plant near Waco Texas has devastated the community with over 20 people reported dead by media.
The blast actually measured over 2.0 on the Richter (Earthquake) scale.
Over 50 homes have been reported destroyed or damaged.
You Tube Clip capturing the explosion.
To check on injured residents admitted to Hillcrest Baptist Medical Center call (254) 202-1100
For family inquiries about patients at Scott & White Hospital call (888) 394-4947
For family inquiries about patients at Providence Health Center (254) 761-7200
West ISD Superintendent Marty Crawford says classes will not be held Thursday.  Crawford said West Intermediate School was destroyed.  The high school and the middle school buildings were also damaged and structural integrity will need to be checked.  A meeting will be held later Thursday to make plans for housing students for the remainder of the school year.
Google Document created by the community with of places for West explosion residents who are displaced.
Central Texas Urgent Care clinics in Hewitt and Lacy Lakeview will remain open all night to treat those with minor injuries
The Extraco Events Center will be setting up to take donations starting tomorrow at 9:00 am. For information call 254-776-1660
Carter Blood Care Center will accept donations beginning at 9 a.m. Thursday in Waco
Carter BloodCare will be holding a blood drive at Providence Thursday between 11 am and 5 p.m.
The Scott & White Blood Donation center is open until 2:30 a.m. Thursday and will reopen at 8 a.m.
HEB Pharmacy in the Woodway area is staying open all night to help accommodate West residents who may be injured and need prescriptions filled
First Baptist Church of Lott has room for anyone needing a place to stay. Call (254) 829-2321
American Red Cross crews from across Texas were sent to the site of an explosion at a fertilizer plant near Waco where multiple injuries have been reported. Red Cross spokeswoman Anita Foster said her group is working with emergency management officials in the town of West to find a safe shelter for residents displaced from their homes.
The Aquilla ISD opened facilities for those seeking refuge.   Please report to the gym entrance.
Blair's Cove Apartments in Waco offering housing to any West residents affected by the explosion at 2425 S. 21st St. (254) 447-0810
Latham Springs Baptist Camp is open to displaced residents at 134 Private Road 223 in Aquilla
The Abbott gym is open to displaced residents
Valley mills Nursing Home has rooms available for nursing home residents if placement is needed for any of the West nursing home residents. Call 254-932-6288.
First Baptist Church of Gholson is open for anyone who needs a place to stay
Gholson ISD open for those seeking shelter
Brazos Meadows Baptist Church at 625 S. Hewitt Dr., adjacent to Castleman Creek Elementary will be open for anyone who needs a place to stay
American Legion Post 121 in Elm Mott is open for displaced residents
Sykora Family Ford in West has opened for residents who need a safe place to rest
Town Hall Estates in Hillsboro was taking in displaced residents
The Home Depot store in Bellmead will be open all night for those who need plywood, generators, etc.
Both Peas & Tots and Smarty Pants consignment stores in Waco are accepting clothing donations in all sizes for those in West
TSTC Student Recreation Center in Waco is open to take in those displaced by the explosion in West
Antioch Community Church at 501 North 20thStreet in Waco is open to displaced residents
Alliance Auto Auction between Elm Mott and West on I-35 is open to anyone needing a place to stay
Penelope School is open for displaced residents at 309 Avenue D
Central United Methodist Church off Bagby Avenue near Hillcrest Baptist Medical Center is open overnight
Axtell High School will be taking any kind of donations at the school tomorrow! Please donate anything! The PALS organization is taking all donations and will be accepting tomorrow and Friday during school
West VFW is open to displaced residents on South Reagan Street.
Texas Gov. Rick Perry said state resources have been mobilized to help local authorities after the explosion. The governor released a statement late Wednesday night, saying state officials are "monitoring developments and gathering information as details continue to emerge about this incident."