Cornwall ON – The Cornwall Free News is proud to welcome The Best Western Parkway Inn and Conference Centre to our family of Sponsors.
Whether you're on vacation; looking for the highest quality business accommodation in the area, or just looking for that romantic getaway from home, this full service Inn situated in the heart of Cornwall Ontario is exactly what you're looking for.
They recently were awarded the Chairman's Award in recognition of achievement in scoring in the TOP 5% For quality assurance within Best Western International.
Join them Saturday night for their Prime Rib & Seafood Buffet.   As a matter of fact Peppermills is one of the highest rated dining rooms in Cornwall.
The Hop's and Barley Company Beverage Lounge is the perfect place to mingle, nibble and sip.
Relax by the huge log-burning fireplace in the comfort of beautiful wing back chairs.
Enjoy your favourite cocktail or beverage while engaging in the fine art of conversation.
The Hop's & Barley Company Beverage Lounge will make you feel right at home, while Winners Sports Bar, on the lower level is a great spot to watch that game and chill after a long day on the road.
The Best Western Parkway Inn and Conference Centre has renovated all of its rooms with amazing touches of real wood and the finest amenities that you'd expect of a higher end Inn.  All of their rooms are non-smoking, and over 50 of them have fire places.
(Business Plus Room Pictured Below)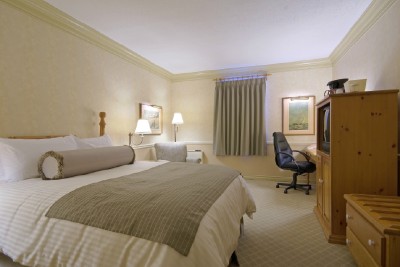 They recently created 3 new Mini-Suites which are the height of comfort and space for your short or long term needs.
Special Anniversary or Romantic Getaway Packages are available also to make those moments memories not to be forgotten!  Click the photo for more information.
Visit their website today and see the difference in travel accommodation.