Does this image offend you?
It should.  It does me.
Does this one?
Can you imagine some drunken idiot putting a picture of someone in the centre of a poppy because they were suspended by Facebook?   I know.  Insane.
When presented this image Bill Maxwell of the Canadian Legion responded appropriately and was quoted in a piece we did LAST SUMMER.
"It is a first. I have never seen such a blatant defacement of our sacred symbol and believe that if other Canadians could see it, they'd be as outraged as I am," says Bill Maxwell, who is secretary of the Legion's Poppy and Remembrance Committee.
Now I may have some bias as the puppet person that leads the groups created around the boycotting of my businesses and personal defamation and threats to my person, co-workers, and clients is the party that posted the original defacement of the poppy.
That's not even the story.  Drunken morons do stuff like that all the time.  We generally ignore them like most civilized people do.
However in this case James "Jim" Brownell, Hon. Lt. Colonel of the SD&G Highlanders, a military unit in our Canadian Armed Forces with a proud history, decided to participate and when shown the handiwork of the group stated that he was not his brother's keeper and then went on to state the the group leader was his friend and former student and that I should mind my own business.
That of course included the group mocking the protest of the use of the poppy.
This was in June and July.      And  that even isn't the issue.
The issue has been the cover up of the scandal and the hate group  by officers in the unit. the CO of the unit, the Legion, Esprit de Corps magazine,  several MP's including our local one, even our local Friends of Vets group stood down rather than confront the mockery.    Even our PM Stephen Harper, was contacted with the evidence as were several media outlets.
The group was changed to secret or closed so it's gone.  We have hundreds of screen caps of evidence, but why remove something if you've done nothing wrong and are proud of what you have typed or if you belong to a group as Mr. Brownell has proudly admitted?
Why was Mr. Brownell,using his picture of himself in Uniform participating in a hate group in the first place?   And it is a hate group, as are the spin offs created by the same party and small active group.
You can't say you're not in a hate group and be a part of an angry mob.  Can you?  Well maybe in certain parts of Canada… These folks actually get upset when they're called a hate group.
..sorry to go against the waves but I truly do HATE CFN and it's blogging Editor Gilpig
Um, that's hate.   That quote isn't a typo.  The group things it's clever to attack my being overweight.
Another member claims to have left the group because of racism.
Which is what brought down the first group organized by these folks.
So you have a small group of people that started a boycott group against a local business;  who then defaced the poppy,  which Mr. Brownell kept on championing even posting in the latest incarnation in the group, this time MINUS his profile pic being in uniform from November 1, 2014.
See the doll on the end?  Deputy Mayor Tammy Hart of South Stormont.    And that ladies and gentlemen has been what this entire circus has been about.  Dirty small town politics in Eastern Ontario where a former Liberal MPP teamed up with a rabid conservative to attack a business to the extent that an election may have even been fixed.
The South Stormont results were over four hours late and when the results came through it was a victory for a former mayor that cost his township thousands and settled in a lawsuit against himself the insurance companies he worked for at a rate of pennies on the dollar; a deputy mayor who cost the township over $30K in the last term alone in Integrity Commissioner fees, a woman that broke the law to literally destroy any attempt to revitalize the South Stormont Chamber of Commerce while her own business failed (and is now closed) , another man who refuses to answer to whether he has had a criminal record and spent time in Kingston (or received a pardon) and waiting in the wings another retired military person who stood down after seeing the poppy in play.  It was an election filled with lies and bullying from door to door.
The voting in South Stormont was done electronically and via telephone.
And even this motley crew isn't the issue.
The sole issue at this point is why this group would be allowed to cover up their actions.   Why would Mr. Brownell be allowed to attend Remembrance Day events in Cornwall Tuesday and lay a wreath in uniform after his actions?
We live in a society that covers up the truth far to easily.
Recently we had an issue with a Principal at a local school not taking clear action to remove swastikas in her high school.   I was told that she was given a three day suspension but allowed to attend school so as to not appear to be punished. (not confirmed)  Doesn't that defeat the purpose?  And recently we had the head of the School board (David K Thomas)  do a quickie retirement (allegedly and unproven, for a relationship with a principal that involved more than textbooks) If Mr. Thomas had done anything akin to the rumours why would he be allowed to retire?
Or here in Cornwall where our former CAO was allowed to go on Executive leave and retire rather than be held accountable for his actions which have cost the city millions in legal fees, settlements, and other costs.
Just like how the province of Ontario spent over $50 MILLION dollars on Project Truth, which was to investigate claims of a pedophile ring here in Cornwall and the area which ultimately was a cover up of those that covered up for certain pedophiles.
So yesterday I laid down like our PM, various MPs, media, and others.  I didn't want this story to marr the event with any possible outburst on Remembrance Day.     I have always stood up for vets.  As opposed to the Seaway News we didn't commercialize Remembrance Day.  We shut down CFN from Monday night until Tuesday at 11:11AM with the poem Flanders Field on our home page as we have done in year's past and will do in year's future.
I will always support our Veterans because THEY ARE their Brother's Keepers.  They should not just be there for photo ops for politicians.
Sadly we live in a society that while tragic, comes out for two deaths when far too many soldiers end their own lives after being destroyed by their experiences serving our country.
Soldiers are held accountable by the very risk of their lives that they willingly put on the line.   They deserve better than what has occurred here in Cornwall.
I have been targeted by sheer volumes of hatred for exposing stories like this.   People are angry seeing names in print, especially when it's their own or friends; but what kind of society do we want to live in?
I can't speak for those reading this; but I know I want my community to stand up against bullies, lies, and corruption.
We all failed this time.  Frankly Mr. Brownell should be stripped of his honourary title.  The CO of the Glens, Mr. Young, should be pulled and forced to resign.  Captain James Borer of the Glens, a political chum of Mr. Brownell should also be held accountable for not taking clear action in this scandal.   The Legion failed locally (they refused to respond) and Nationally as Mr. Maxwell refused to add to his quote after finding out about Mr. Brownell.
Mr. Borer's own words in a letter to the editor published here on CFN ironically chastising Deputy Mayor Hart.
In the same way that you decry the use of taxpayer's money to support Canadian Citizens and the Canadian Charter I am opposed to you using taxpayers money to lobby against Canada.

Either resign as Deputy Mayor or stop using taxpayer money in your personal crusade against bilingualism.

James Borer – South Stormont
Mr. Borer is the former Provincial Liberal Riding Association President and close to the Hon. Lt. Colonel.
In our community we have been well supported by the Provincial Liberal Government and the Ministry of Health through the major capital projects and considerable increase to the Cornwall Community Hospital operating budget.  These positive changes have set the conditions for success within the new Health Based Allocation Model.  We can be proud of these recent achievements and continue to work to strengthen our community's health care as we move forward together.

James Borer
Lunenburg ON.
One should never put Politics ahead of what the Poppy is supposed to symbolize.  That sadly has occurred this year.
The rest is up to the public.   The truth is there for anyone that wants to investigate the emails and evidence which have been offered for examination to many mentioned above.
And I end this piece with In Flanders Field, written by a Lt. Colonel who understand about Honour, John McCrae.  Hopefully more people support our Soldiers for whatever reason they choose and something like this never happens again in our country.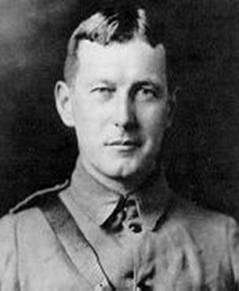 In Flanders fields the poppies blow
Between the crosses, row on row,
That mark our place: and in the sky
The larks still bravely singing fly
Scarce heard amid the guns below.
We are the dead: Short days ago,
We lived, felt dawn, saw sunset glow,
Loved and were loved: and now we lie
In Flanders fields!
Take up our quarrel with the foe
To you, from failing hands, we throw
The torch: be yours to hold it high
If ye break faith with us who die,
We shall not sleep, though poppies grow
In Flanders fields
(Comments and opinions of Editorials, Letters to the Editor, and comments from readers are purely their own and don't necessarily reflect those of the owners of this site, their staff, or sponsors.)
Comment policy reminder 
CFN suggests you post comments using your real name. If you wish to post with a pseudonym you can register that user id by emailing info@cornwallfreenews.com with your name, address, phone number and user id you wish to register.